Amacker + Schmid AG
Since 1962, Amacker + Schmid AG has developed and built machines and plants for the abrasive industry throughout the world. The portfolio ranges from very simple machines to fully automated plants in all common processing widths.
Read more
Discover the different possibilities of our Flexing machine type FCS. Basic version Roll width 1650 mm, 1850 mm, 2150 mm. Unwinding and rewinding for rolls up to ø1400 mm (others on request). Element construction with unwinding, flex cell with well-proven flexing...
One of our major strengths and important part of our overall supply.   What you can expect from us: A wide range of mechanical spare parts. Even for machines that have been in operation for more than 40 years. Rapidly available wear parts such as flex bars, blades,...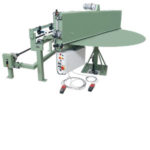 New machines.
Recently produced.
Available right away from stock.