The machines listed below are available right away from stock.
Your benefits at a glance:
Available right away from stock.
New machines recently produced.
Swiss quality.
Spare and wear parts supply guaranteed.
Comprehensive service and support.
Interested?
Contact us for further detail. It would be our pleasure to submit an offer or answer your questions.
E-Mail: info@amackerschmidag.com
Cutting machine type WSQ
Cutting length up to 1850 mm.
Crush cut system for straight cut and wave cut (wave form type 20800).
Foot operated cutting (knife is moved by an electric motor).
Cutting angle adjustable between 90° and 45°.
Cutting pressure pneumatically adjustable.
Crush cut against replaceable steel strip.
Pneumatic clamp to hold the material during cutting.
Material is passing through with grain side up.
Machine can be turned on its pedestal.
Unwind station type 363
Maximum roll width up to 1650 mm.
Maximum roll diameter 750 mm.
Unwinding type KB
with flap bearings for pneumatically expandable unwind shafts or square shaft with cones and manually adjustable mechanical brake.
Belt support with a hardened, fixed steel shaft type F.
Type TV: automatic partial feeding of the material through the cutting machine.
Maximum working width up to 360 mm.
Mechanical knife system type KK or fixed knife sets.
Short belt stretcher (ø45 mm)
Cut end automatic type SEA
Time-controlled cut end automatic to stop the cutting process when working with several identical belts. Especially suitable for high quantities of small/short belts.
Automatic knife guiding system based on belt edge detection.
Wave cut function.
Cut-to-length machine type HTBP
Maximum cutting length 500 mm.
Pneumatic cutting.
Shear cut system for straight cuts (no wave cuts possible).
Cut with dished knife against "throw-away" blade.
Cutting angle adjustable between 90° and 45°.
Machine can be turned on its pedestal.
Working height 910 mm.
Unwind station type TVK
Automatic partial feeding type TV through the cutting machine.
Unwinding with pneumatically expandable unwind shaft as well as mechanical brake.
Rollenbreite bis 620 mm.
Scherschnittsystem mit Obermesser und Untermesser.
Regelbare Geschwindigkeit bis ca. 100 m/min.
Abrollstation für Rollendurchmesser bis 750 mm.
Pneumatisch expandierbare Abrollwelle.
Regelbarer Wickelzug.
Zwei pneumatisch expandierbare Aufwickelwellen.
Hebezug um Rolle einfacher zu laden.
Ohne automatische Kantensteuerung.
Punching machine type SSZ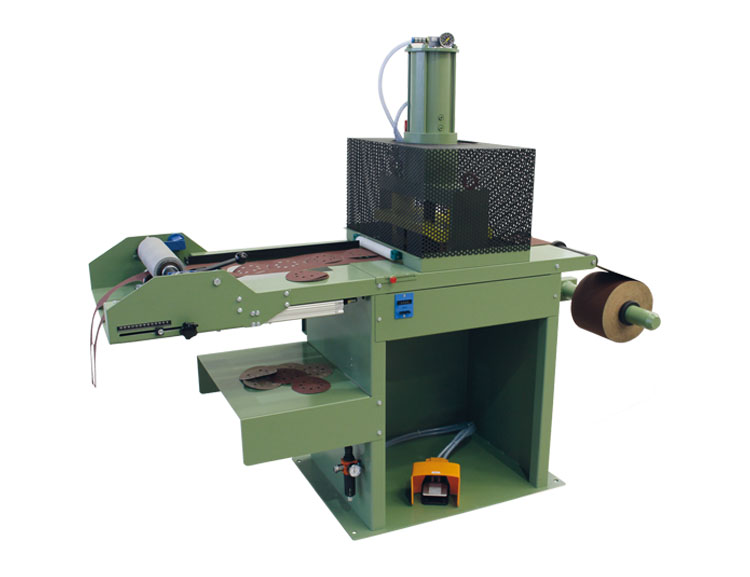 For rolls up to ø600 mm.
Discs of ø90 … 300 mm.
Shear cut punching tools.
Punching tools are exchangeable.
Discs/sheets with or without center hole as well as with or without suction holes.
Foot operated punching.
No electric power needed.
Pneumatic pulling device type V,
with adjustable range of 80 … 310 mm (for scrap web).
Pneumatic preselecting counter type PZ,
to stop the machine after the pre-selected number of cuts is reached.
Machine color green RAL 6011.
Compressed air of 6 bar.
Press force adjustable up to 18 tons.
Maximum press length 500 mm.
Press bar width 20 mm, 30 mm or 40 mm.
Press time adjustable up to 60 seconds.
Built-in heating up to 80 °C (upper and lower press bar).
Mechanical clamping device for maximum joint length of 500 mm.
No compressed air needed for the operation with the mechanical clamping device.
Table is moved by hand from right to left.
Equipped with one aggregate:
– Empty space that can be equipped with a diamond aggregate working from the top (on request).
– Aggregate type C: working from the top against a hard metal plate, with an abrasive belt on a parallel basis.
The aggregates can be easily delivered in the working process.
Built-in connection pipes for aspiration.
Table model without pedestal (pedestal available on request).
How may we help you?
Contact us! Our experts will be happy to support you.